Earth HQ harnesses the power of mass media to raise awareness of the planetary emergency and to increase public demand for action. The agency serves as the media arm of the Global Commons Alliance, a coalition of scientific, philanthropic, conservation, and business organizations working to protect the global commons, and a sponsored project of Rockefeller Philanthropy Advisors (RPA).
Tim Kelly is the executive director of Earth HQ. Previously, during his 30-year tenure at National Geographic, he oversaw its transformation into a leading multimedia force, engineered the launch of the National Geographic Channel, and eventually served as the organization's president. Kelly spoke with RPA to explain the origins of Earth HQ, the role of collaborative funding, and the importance of climate communication and storytelling.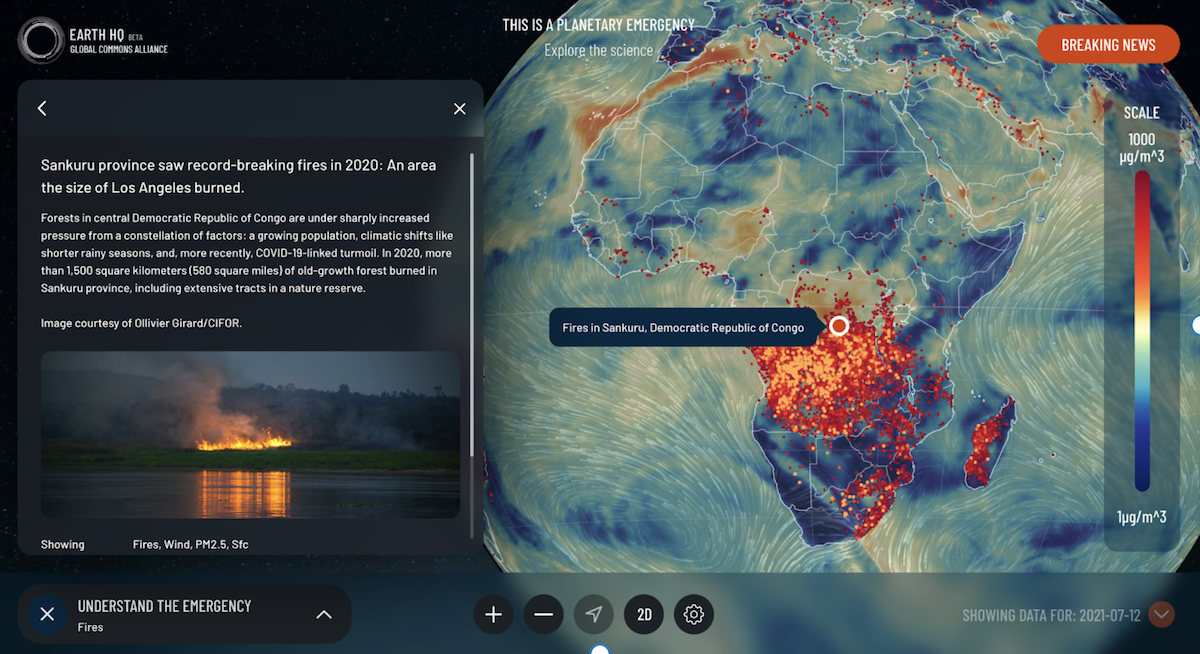 Please tell us about your journey from National Geographic to Earth HQ
Tim Kelly: I had a great 30-year adventure at National Geographic, an organization with a mission of inspiring people to care about the planet. When I joined, the magazine was the main focus. I got to help them launch into television, film, and digital—and eventually, the National Geographic Channel. It was a real honor to work with writers, scientists, photographers, and filmmakers to tell the epic story of the planet from all angles, and to do so as the media world transformed.
I joined Earth HQ almost three years ago as the Global Commons Alliance was being formed. It was at the request of one of the funders who thought that the Alliance needed to work not only with science and conservation NGOs, but also to build public support and engagement to achieve the massive transformation of the economic system needed to address the climate crisis. To that end, Earth HQ was formed with the goal of building media partnerships to reach the broader public.
How has Earth HQ evolved since its formation?
The idea behind Earth HQ was not to create a brand-new media entity, but rather, to partner with existing experienced and successful media organizations and for the Global Commons Alliance to harness their work, their distribution, and their talent. We started by partnering with two organizations: NowThis News and Mongabay.
NowThis is a massive global news brand with a huge domestic and international reach. They're focused on visual storytelling designed for social media platforms and they really know the 40-and-under demographic— a critical audience for the Global Commons Alliance that considers the planetary emergency as a priority. NowThis was interested in launching a new vertical around this issue. We got initial funding from the Gates Foundation's New Venture Fund that enabled us to launch, and from there, we built a dedicated team for NowThis Earth.
Next, we brought Mongabay into the initiative. Mongabay is the largest environmental science journalism network, with 800-plus journalists reporting from all over the world. It has bureaus in Brazil, India, Indonesia, and other countries that employ local staff, and a lot of Mongabay's coverage focuses on environmental justice and Indigenous leadership.
The teams at NowThis Earth and Mongabay not only work with each other but also collaborate with more than 20 Global Commons Alliance partners to tell the epic story of what's happening to the planet right now. Additionally, there's a deliberate attempt to report not only the bad news, but also to tell solutions-oriented stories about people in the field who are taking action; about the protection and restoration of natural systems as one of the key pathways to achieve climate goals. It's worked well so far: we've produced more than 400 stories and reached more than 350 million people. And we've received support both from the investor collaborative group of the Global Commons Alliance and from outside funders like the Gates Foundation and Earth X.
Why are communication and storytelling so critical to addressing the climate crisis?  
Something I've seen throughout my career is that NGOs, scientists, and government officials tend to communicate quite well with one another when it comes to the climate crisis—but little of it is designed or intended to reach the public. Additionally, climate isn't officially part of the curriculum in schools. So a lot of people don't really understand the science of how the planet works, whether it's students just graduating from high school or people running corporations or government officials.
Another issue is a shortage of climate reporting. Yes, there is some thriving climate journalism, but much of it sits behind steep paywalls. A lot of what people pick up on climate is from the internet, and oftentimes, that information is wrong.
So there must be a stronger media presence when it comes to climate change, and we're starting to see more funders trying to fill this space to help reach the public. Without an informed and engaged public, it's just so hard to have the political will to achieve the changes that are needed. It's encouraging to me that we're starting to see recognition that we need to get more people involved to build the support for the policy changes and the societal transformation required for a livable planet and a sustainable future.
What has the fundraising process been like for Earth HQ? How has the funder collaborative model informed the experience?
An investors' collaborative provides the base funding for everything we're were doing. The collaborative is comprised of core Global Commons Alliance funders including the Global Environment Facility, Porticus, Moore Foundation, Oak Foundation, and MAVA Foundation. We're fortunate to have a group of funders who meet regularly, give us feedback, and connect us to other funders who have really good ideas. I've never had an experience working with such a dedicated group of funders who've been working with us now for a couple of years. And they've been incredibly supportive and helpful every step of the way.
RPA is a critical part of the whole operation. It's the most efficient and connected nonprofit entity for running this kind of alliance; RPA is super efficient and really helps bring all the pieces together. We're able to direct the funding we get right to the work that's being done without a bunch of overhead and fees. Additionally, RPA is well-connected with many similar initiatives and is really knowledgeable about everything else that's going on in this space.
Overall, we've found it important not to have a bunch of overhead, to be able to pick our partners and to fund experienced teams that have already proven that they can be successful. That's kind of our sweet spot, and we want to keep developing donor relationships that take us where we want to go, using top talent and not weighing it down with a lot of overhead.
What are your priorities for Earth HQ both in the near-term and medium-term future?
Right now, COP26 is a huge priority for Earth HQ. We're bringing together all these organizations and partnering with Eurovision on the Nature Zone Pavilion and Newsroom to provide daily reporting from the Blue Zone at COP26. It's an opportunity to reach a very broad audience: Eurovision has more than 100 member broadcasters, and it's a way to have a direct line into about a billion homes. There will be a lot of collaboration across the Global Commons Alliance with all the partners. We're bringing in diverse voices from the Global South, which are underrepresented at the COP conference. We're working to elevate the dialogue about the importance of protection and restoration of natural systems as one of the key pathways to reach the climate targets.
We're also launching the new Virtual Earth Dashboard, an incredible platform that will feature dozens of near-time data visualizations, including fire, particulate pollution, carbon dioxide, carbon monoxide, methane, Arctic ice minimums, and coral reef bleaching. The dashboard will integrate news stories built around each of the planetary boundaries. I'm really excited about this platform because it gives an astronaut's view of Earth in real-time as a connected system. We hope to use the dashboard at COP26 as a tool to illustrate a lot of the phenomena that are happening.
We've also got plans looking further into the future. We're going to add multiple language feeds to our service. We're going to add dedicated correspondents. We're launching an investigative reporting initiative with Mongabay to provide transparency and to put a spotlight on major companies in the Northern hemisphere and their big footprints in the Southern hemisphere. We're also are going to develop new television specials and series, like the Netflix documentary Breaking Boundaries: The Science of Our Planet. We want to develop more impactful stories that will reach a wide variety of audiences.
Ultimately, the world is changing rapidly from environmental, technology, cultural and media perspectives. We'll continue to be experimental and entrepreneurial about what we're doing, and in a collaborative way.