Progress lagging across all sectors to limit warming to 1.5 C, but rapid change is possible, finds new report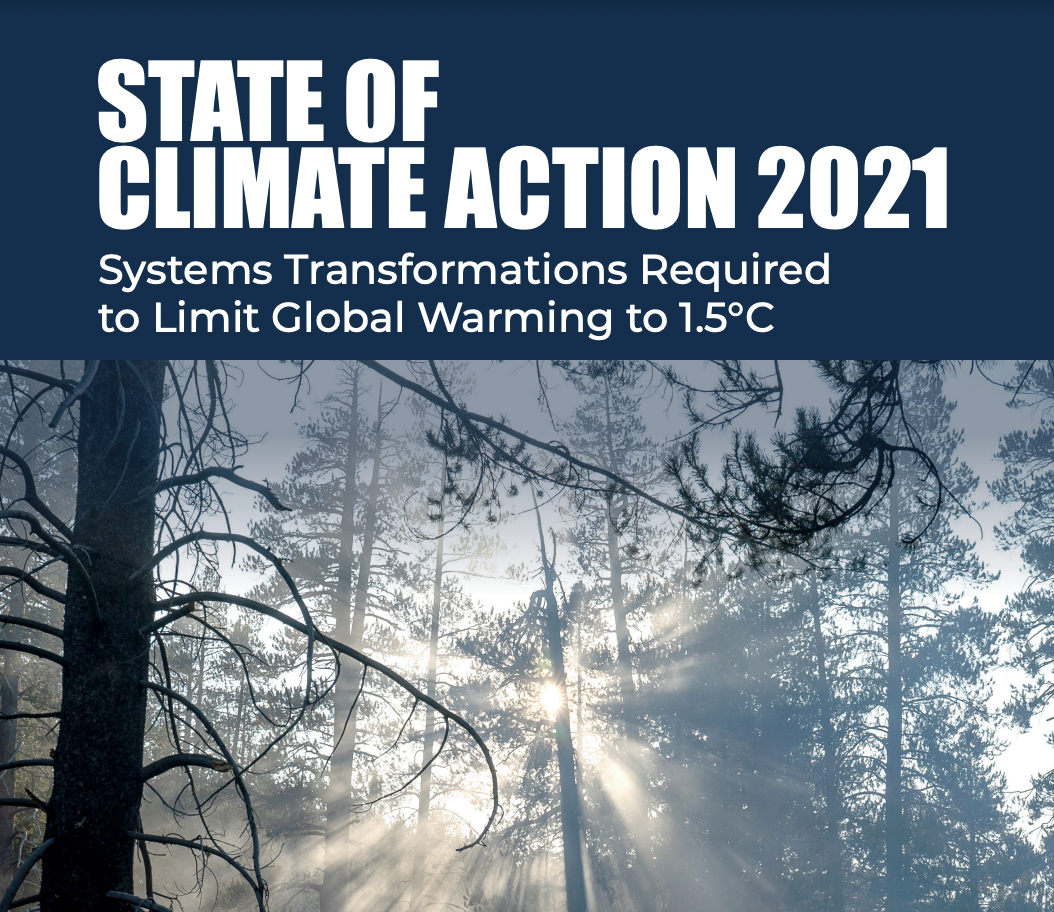 Decision-makers must accelerate transformations across 40 key indicators at a far faster pace than recent trends to keep 1.5°C alive, according to a new report, The State of Climate Action 2021: Systems Transformations Required to Limit Global Warming to 1.5°C, from the Global Commons Alliance's Systems Change Lab.
Download the State of Climate Action 2021 report.
Lead author and director of the Systems Change Lab, Kelly Levin, from the Bezos Earth Fund said, "Never has ambitious climate action been more important than now.  Those countries that have not stepped up their commitments must do so urgently. And leaders need to rise up to advance the transformations required to meet the Paris Agreement's goals.  In Glasgow and beyond, true leadership will mean that we are committing to sufficient action and not just patting ourselves on the back for doing better."
While nations need to step up, the report highlights notable progress in recent years. The authors say a number of clean technologies may be on the cusp of rapid, widespread adoption. For instance the report found that wind and solar power, as well as electric vehicles, have already begun being adopted at exponential rates.
Globally the share of electricity generated from solar and wind has grown at an annual rate of 15 percent over the last five years alone, and building new solar and wind energy capacity is now more cost-effective than generating electricity from existing coal-fired power plants in most places. Electric vehicle (EV) sales have also been growing rapidly, reaching 4.3% of global light-duty vehicle sales in 2020 and growing at a compound annual growth rate of 50% from 2015 to 2020. With the right support, nascent low-emissions technologies like sustainable aviation fuel production and technological carbon removal have the potential for exponential growth as well.
Yet the hard truth is that despite these bright spots, none of the 40 indicators are making progress at the pace necessary for the world to cut greenhouse gas emissions in half by 2030 and fully decarbonize by mid-century, which are both necessary to limit global temperature rise to 1.5°C.
"Since the Paris agreement in 2015 we've seen remarkable progress, as nations and corporations have committed to net zero emissions, major automakers have committed to eliminating the internal combustion engine, and renewable energy has become cheaper than fossil fuels almost everywhere on Earth. But to avert climate disaster we cannot just do better –  we need to do enough." said Andrew Steer, President and CEO, Bezos Earth Fund. The fund has contributed to the report. "This important report gives a clear-eyed view of the accelerated level of action needed this decade and beyond to keep the Paris Agreement's 1.5 degrees C goal within reach."
"Humanity is only just waking up to its ability to drive genuine systemic change," said Nigel Topping, UN High Level Climate Champion for COP26. "We have the capacity to radically scale up climate action through the  exponential growth in disruptive technologies – if we agree to do what it takes, and put the right policies and finance in place fast to deliver a healthier, cleaner zero-carbon world in time."
"Increasingly dynamic action already is underway within a handful of sectors, across some regions, and from individual stakeholders," said Niklas Höhne, Partner, New Climate Institute. "These bright spots prove that faster-than-expected progress is possible when decision-makers deploy the many tools at their disposal to accelerate the transition to a net-zero future."
Interim director of the Global Commons Alliance Patrick Frick said, "We are excited to see the publication of its first global stocktake of required transformations. From here onwards, it will become a powerful tool to influence and mobilise key decision-makers to take the urgently needed actions to reduce the dangerous degeneration of our global commons."
Seventeen indicators are "well off track," requiring more than twofold faster adoption than recent historical rates of change. For example, to get on track for the emission cuts and carbon removal required by 2030 the world needs to:
Phase out unabated coal in electricity generation five times faster;
Accelerate the increase in annual gross tree cover gain three times faster;
Increase the share of low-emission fuels twelve times faster; and
Restore coastal wetlands nearly three times faster.
Eight indicators are off track but require less than a twofold faster adopting to get on track. These include the industrial use of electricity, crop productivity and ruminant meat consumption, among others.
For three indicators, recent historical progress has stagnated and a step change is required to get on track, such as the carbon intensity of global cement and steel production. For another three indicators things are getting worse rather than better. These include the share of trips by private vehicles, deforestation and GHG emissions from agricultural production. Finally, for nine indicators data are insufficient to assess the rate of historical change and how fast action needs to be accelerated.
"Shifting the world off its addiction to coal not only benefits the climate, but also the health of communities living near both coal-fired power plants and coal mines," said Bill Hare, CEO of Climate Analytics. "We have the technology for the majority of these areas to decarbonise.  What we need is political will, and for governments to catch up with the opportunity this transition will bring for their economies."
Climate finance must ramp up significantly
The rapid transformation needed to halve greenhouse gas emissions by 2030 will require significant financial investments, technology transfer and capacity-building, especially for developing countries. While climate finance has increased significantly in recent years across both public and private sources, it is still not at the scale needed to revolutionize our energy and transportation systems, accelerate energy efficiency and protect forests. The report found that, globally, total climate finance needs to increase eightfold to meet the estimated $5 trillion needed annually by 2030, an average increase of $436 billion a year between 2020 and 2030. This is 13 times faster than the historical rate of change.
"Many of the countries most vulnerable to the impacts of climate change are also the least responsible for the historic emissions that are driving today's crisis. It's imperative to support these countries with the financial and technological resources they need in order to equitably address climate change on a global scale," said Surabi Menon, Vice President, ClimateWorks Foundation. "As this report shows, climate finance is trending upward, but not nearly at the speed required. The public and private sectors, as well as philanthropy and civil society, must continue to step up and accelerate the investments needed to maintain a climate-safe world for all."
This year's report also provides a snapshot of the supportive measures that can enable us to achieve each of the targets and help keep warming below 1.5°C. These include public policies, technological innovations, strong institutions and shifts in social norms, among others. This analysis arms decision-makers across government, civil society and the private sector with a clear-eyed view on the state of climate action and what they need to do. We now need them to make a true step change in their own ambition.
"While there are encouraging signs of progress across many sectors, it is clear that the climate crisis is still outpacing our response," said Ani Dasgupta, President and CEO, World Resources Institute. "This report is a call to action for policymakers, CEOs and others to take the bold, unprecedented action necessary to point us toward a safer and fairer future."
"The findings from this report are a stark reminder that we need a serious multi-stakeholder coalition of governments, corporations and citizens to break the inertia and displace the incumbent, emissions-intensive economic structure," said Naoko Ishii, Executive Vice President, University of Tokyo Center for Global Commons. "Working together to simultaneously flip the system is the only way to bring us on to the pathway to safeguard global commons."
Download the State of Climate Action 2021 report.
This research was made possible by the financial contributions and thought leadership from the Bezos Earth Fund, ClimateWorks Foundation, the Center for Global Commons, the Global Commons Alliance, the Global Environment Facility, the Herlin Foundation, and the Laudes Foundation.
About Systems Change Lab
As a core component of the Global Commons Alliance and the University of Tokyo's Center for Global Commons, the Systems Change Lab is a joint initiative between WRI, the High-Level Champions, Bezos Earth Fund, and the Global Environment Facility. As a dynamic, virtual situation room for systems change, the Lab monitors, learns from, and mobilizes action for the transformational changes required to safeguard the global commons. The lab is part of the COP26 High Level Champions team Learn more about Systems Change Lab.
About Bezos Earth Fund
The Bezos Earth Fund is Jeff Bezos's $10 billion commitment to fund scientists, activists, NGOs, and other actors that will drive climate and nature solutions. By allocating funds creatively, wisely, and boldly, the Bezos Earth Fund has the potential for transformative influence in this decisive decade. Funds will be fully allocated by 2030—the date by which the United Nations' Sustainable Development Goals must be achieved. For more information on the Bezos Earth Fund, please visit: www.bezosearthfund.org
About Climate Action Tracker
The Climate Action Tracker (CAT) is an independent scientific analysis that tracks government climate action and measures it against the globally agreed Paris Agreement aim of "holding warming well below 2°C, and pursuing efforts to limit warming to 1.5°C." A collaboration of two organisations, Climate Analytics and NewClimate Institute, the CAT has been providing this independent analysis to policymakers since 2009.
About ClimateWorks Foundation
ClimateWorks Foundation is a global platform for philanthropy to innovate and accelerate climate solutions that scale. We deliver global programs and services that equip philanthropy with the knowledge, networks, and solutions to drive climate progress. Since 2008, ClimateWorks has granted over $1 billion to more than 500 grantees in over 40 countries.
About UN High-Level Climate Champions
The UN High Level Champions for Climate Action from Chile and UK – Gonzalo Munoz and Nigel Topping – build on the legacy of their predecessors to engage with non-state actors and activate the 'ambition loop' with national governments. Their work is fundamentally designed to encourage a collaborative shift across all of society towards a decarbonised economy so that we can all thrive in a healthy, resilient, zero carbon world.
Gonzalo and Nigel have convened a team to help them deliver on this work through flagship campaigns, targeted stakeholder engagement and leadership in systems transformation.
About World Resources Institute
World Resources Institute (WRI) is a global research organization that spans more than 60 countries, with international offices in Brazil, China, India, Indonesia, Mexico and the United States, regional offices in Ethiopia (for Africa) and the Netherlands (for Europe), and program offices in the Democratic Republic of Congo, Turkey and the United Kingdom. Our more than 1,400 experts and staff turn big ideas into action at the nexus of environment, economic opportunity and human well-being. More information at www.wri.org or on Twitter@WorldResources.

About Center for Global Commons
The Center for Global Commons is established at the University of Tokyo, with a mission to drive systems transformation to safeguard global environmental commons, i.e., a stable and resilient earth system. It collaborates with PIK for modelling, with SDSN for Global Commons Index, with SYSTEMIQ for farming exercise, and with WRI to support Systems Change Lab.